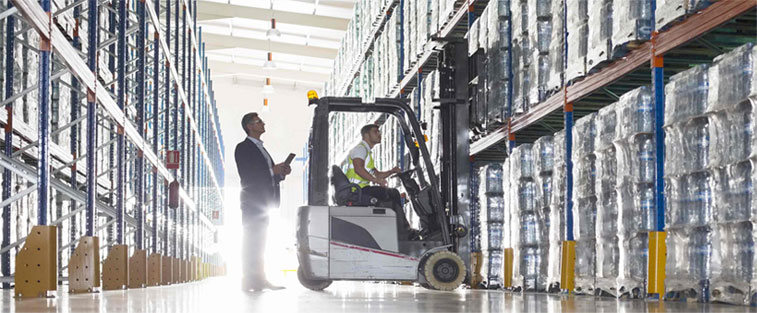 Key Improvements to SAP EWM for S/4HANA 2020
Interested in what's new with SAP EWM on S/4HANA 2020? My Supply Chain Group (MSCG) has you covered!
Every year MSCG participates in solution acceptance testing for SAP's Extended Warehouse Management ( EWM ) and Yard Logistics ( YL ) software. Added hurdles from the Covid-19 Pandemic made SAP's 2020 testing process different than years past but MSCG continued in 2020 testing as one of SAP's trusted partners.
For the release of EWM on S/4HANA 2020, SAP continued its focus on core EWM improvements topics:
Beautification

Integration

Simplification
In this blog, MSCG highlights a few of the many improvements around these topics the MSCG team tested during EWM 2020 solution acceptance testing for both Embedded EWM and Decentral EWM. MSCG also shares insight into how these improvements will impact a company's distribution, fulfillment, and manufacturing processes.
The first topic is for Integration with manufacturing processes, specifically in the automotive industry, within SAP Extended Warehouse Management.
The newest release of SAP S/4 HANA 2020 comes chock full of new improvements.  Even in these unprecedented times, SAP has continued to focus on enhancing usability and user experience allowing companies to do more with less.
Beautification for EWM on S/4HANA 2020
New and Improved Transactions for SAP EWM on S/4HANA 2020
SAP's first improvement area is Beautification of SAP EWM on S/4HANA 2020. Among the topics for Beautification are improvements targeted at the user experience with enhanced features, simplified UIs and flexibility. Here are some of the highlights:
Attachment Services For EWM Objects: Inbound & Outbound Delivery, Transportation Unit
A regular practice on the receiving dock of many facilities is taking pictures of unbalanced loads or damaged pallets as they arrive at the DC for the purposes of refusals or vendor compliance reporting.  Often the pictures are stored in a local desktop folder or perhaps on a shared drive with no ability to link them directly to the actual WMS document.
Fiori App: Change Inbound Deliveries
Now in S/4 HANA 2020 you have the ability to attach files directly to the documents in the system for easy correlation and traceability.  Enhancements have been added to the Warehouse Monitor and Fiori Apps for Inbound and Outbound Deliveries to manage and display attachments. This functionality also applies to the Fiori App for Change Outbound Deliveries.  
Now that you have stored your images directly to a delivery, you can easily search for and display that image in the SAP Warehouse Management Monitor. This immediately reduces user time to pull the necessary information directly from EWM in a customer claims situation or audit process:
Warehouse Management Monitor
Beyond retrieving specific attachments for a delivery, the Warehouse Monitor also now has an additional column to show the number of attachments for each delivery document and provides a detailed view of the files including the date and time of each upload and the person responsible.
Modernized RFUIs in Portrait Mode: RF Picking Screens
A common area of development for SAP EWM implementations is enhancing the RFUI screens to increase usability for the end user. Teams spend time and effort reformatting and resizing standard RF screens to make them less busy, easier to use and to fit onto modern RF devices.
In S/4 HANA 2020, SAP has now updated all 329 standard RF screens with a new modernized portrait mode template.  The function keys are presented in a larger and highlighted format to work better with modern touch screen devices and the field spacing is far more comfortable on the eyes. Key benefits of this new RF layout include reduction in the total cost of implementation, faster training, and greater user acceptance.
Integration for EWM on S/4HANA 2020
Enhanced Production Processes for SAP EWM on S/4HANA 2020
The second improvement area for SAP is Integration for EWM on S/4HANA 2020.
Production Process
SAP made a number of improvements in EWM focused on enhanced integration in the production process as part of the SAP S/4HANA 2020 release. Aimed at optimizing both the system and physical processes in production, these improvements include:
Synchronous Goods Movements From Manufacturing to EWM (Embedded EWM)

Enhanced JIT Supply to Production (Embedded EWM)

Stock Transfer Kanban Improvements (Embedded EWM)

Enhancements to Quality Management

Improved Serial number management
There are multiple smaller improvements inside of each of these topics. With all of this new functionality, it is important to understand what this means for your unique manufacturing operations by analyzing each enhancement with relation to your current SAP warehouse processes.
Joerg Michaelis, Chief Product Owner for SAP Extended Warehouse Management, goes into more details on a few of these topics in his post here. Even with these enhanced integration topics focused on the automotive industry, they also provide more streamlined business processes and greater system performance across all manufacturing industries.
Simplification for EWM on S/4HANA 2020
Process Simplification for SAP EWM on S/4HANA 2020
The final of SAP's area for improvement covered in this blog is Simplification for EWM on S/4HANA 2020.
Missing Parts Handling / Preallocated Stock: Preallocate stock to cover urgent demands
Many operations deal with backorders and usually need a more flexible way of ensuring opportunistic cross-docking can be achieved. In S/4 HANA 2020 a new preallocated stock functionality has been added along with UI enhancements in the warehouse monitor to manage preallocated stock.
This functionality is beneficial for customer orders or production scenarios. In addition, this functionality integrates with Handling Unit moves and deconsolidation through new configuration options.
Example missing parts for production:
Upon completion of unloading, the system identifies the product and quantity production based on the preallocated stock entries. The system then redirected the preallocated quantity from the putaway area to the production supply area. Finally, the system updates the demanded preallocated stock quantities to fulfilled.
SAP EWM's new configuration options for Preallocated Stock (PAS) configuration include Warehouse Process Type (WPT) settings. The WPT settings combine with Handling Unit (HU) management or Process Oriented Storage Control (POSC) settings to leverage standard rules or activate customized logic written in SAP Business Add-Ins (BAdI). The new configuration options for PAS provide flexibility to handle many situations.
Below are examples of how a business can leverage the PAS process with SAP EWM on S.4HANA 2020.
Example various process options: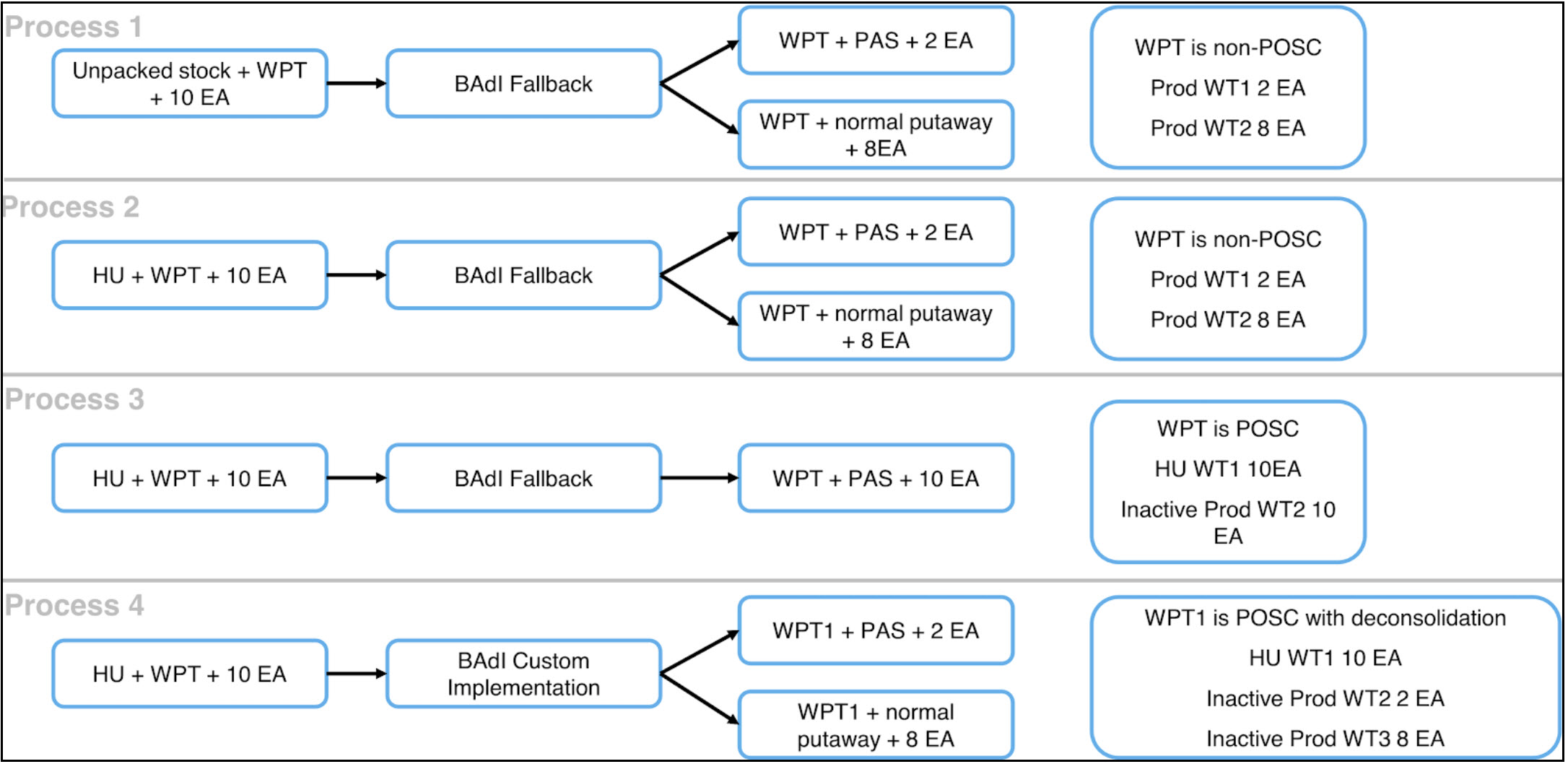 Process 1 & 2 – A quantity of 10 is broken up into two putaway warehouse task operations right away where 8 are directed to the normal putaway storage rack and 2 are directed to another designated zone for preallocated stock.
Process 3 – The quantity of 10 is directed to a staging area or work center. Then, a quantity of 2 is pulled for preallocated stock and the quantity of 8 remains there.
Process 4 – The quantity of 10 is directed to a staging area or work center. Then, a quantity of 2 is pulled for preallocated stock. Finally, the remaining quantity of 8 is put away as normal.
In addition to the configuration, SAP included nodes and sub nodes for Preallocated Stock in Warehouse Management Monitor:
Enhancements of Warehouse KPIs Fiori App: Smart business drill-down page for KPI navigation
The Warehouse KPIs App is a great dashboard to monitor the progress of activities in your warehouse or distribution center. In this Fiori App, key metrics display on tiles in a customizable view with variations of graphical formats. Within S/4HANA 2020 the Warehouse KPIs app is delivered with additional drill down capabilities. These drill down capabilities provide users the capability to view pertinent warehouse data directly from the app.
Hopefully this blog provided additional insight into the new improvements for Warehousing in SAP EWM on S/4HANA 2020.  Dozens of additional improvements are available with EWM S/4HANA 2020, including some through OSS notes to lower releases. Whether it's time to upgrade your existing EWM system, you're ready to start a new EWM implementation, or simply want to learn more about the new features of EWM on S/4 HANA 2020, contact My Supply Chain Group to get the answers you need.
Written by: Damian Khan and Wesley Marion Sr.