EWM JUMPSTARTS – Best Practice Differentiators

MSCG Jumpstart is a proprietary set of custom SAP EWM objects, developed by MSCG, that provide enhanced functionality to Standard EWM processes. The Jumpstart offerings are tried, tested and deployed in live warehouse locations running SAP EWM today.
Every business is unique. Our Jumpstarts help reduce the time & cost required to implement as 60-80% of the development is already done ahead of localization.
Available Jumpstarts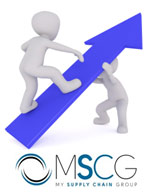 Cubiscan – GUI Transaction and Fiori App
IBGI &EWM Document Printing
Cartonization & Cart Picking
Wave Simulation with Replenishment
Automatic Pack-spec Creation
HU Audit – RF Transaction and Fiori App
Consolidation Monitor & RF Transaction
EGF Warehouse Reports
Product Master: Default values (CIF)
Fiori environment Enablement steps
Receiving – Fiori App
Shuttle transfer between Warehouses using DODOs
Pallet Move
Simplified Task Interleaving
Voice Pick Utilities
Auto Resource to Resource Transfer
© 2019 MSCG. All Rights Reserved.
Upcoming Jumpstarts
High Volume Outbound Picking: Streamlined repetitive picking process
Fiori App for HU Audit: Custom Fiori application for MSCG HU Audit process
Small Parcel Shipping: Simple small parcel carrier integration through EWM packing
Standalone Warehouse & 3PL: Pre-built EWM warehouse for standalone or 3PL use